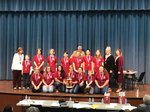 2018 SC Academic Team State Champions
MCMS Rebel Academic Team takes state at SC State Championship of Academics competition at Francis Marion University! They defeated Hillcrest Middle School 44 to 19 in the semi-finals. Next they beat Latta Middle School 45 to 30 in the final round. MCMS proudly represented Newberry County and the Western Piedmont Consortium.
Rebel proud of coaches Janna Richardson and Kristin Caughman. Student members: Sam Hawkins, Nicole Curtis, Ella Schafer, Kelsey Buckley, Rachel Redd, Kendellin Haltiwanger, Katy Mae Crooks, Emma Stuck, Micah Schaefer, Jack Gantt, Madelyn Coker, Leila Kate Quattlebaum, Maya Williams and David Van Zadelhoff. We are Rebel Proud!