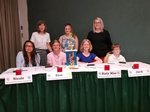 MCMS Takes 2nd at National Academic Competition
After coming out of a great season winning the WPEC finals and advancing to win the South Carolina Academic Bowl, Mid-Carolina Middle School ended their season finishing 2nd in the 2018 National Academic Championship held in Orlando, Florida on June 17, 2018. The team members that participated in the championship are Maya Williams, Jack Gantt, Katy Mae Crooks, Nicole Curtis, and Sam Hawkins. Coaches are Janna Richardons and Kristin Caughman.
Members of the Mid-Carolina Middle School spent June 15th and 16th competing in 6 matches where they had to win a minimum of 4 to advance to the finals on June 17th. Mid-Carolina did such that by defeating Russellville Middle School from Alabama, Inola Middle School from Oklahoma, and LaGrange A and B from Georgia thus securing their spot in the finals on Sunday, June 17th.
In the finals, Mid-Carolina defeated Russellville Middle School from Alabama and Marianas Baptist Academy from the Northern Mariana Islands to reach the final round. Mid-Carolina Middle School Academic team finished the competition in 2nd place with the loss to the exceptional team from Johnson County from Kentucky. This is an amazing feat and we are very proud to showcase the knowledge and levels of achievement not only of the students at Mid-Carolina but also in Newberry County as this was the school's and district's first participation of an academic challenge on the national level.
Mid-Carolina Middle School Academic Team would like to thank the community of Newberry County and especially the family, friends, and our school, district, and division for supporting us in this memorable season and experience!